Easy Vegetarian/Vegan Black Bean Soup
Parsley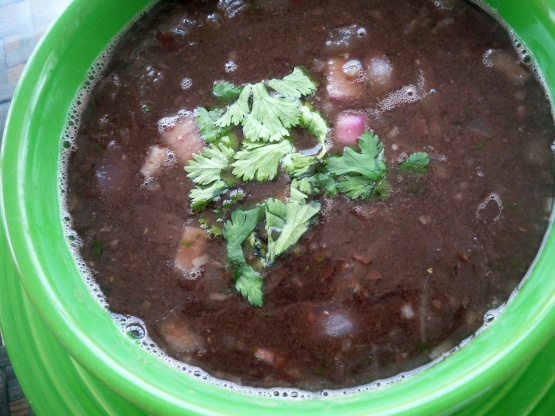 Hearty, yummy, and healthy! This is a really easy soup to make, it cooks really fast without many steps, and is very rich with black beans. Some fresh cilantro would make a nice replacement to the coriander but I usually don't have it on hand, so I used dry spices for everything but it came out great. I like my soups with a tad of salt, but you can omit the salt if you're watching your sodium intake or lower it/replace with something like SaltSense. It's very pleasant and mild, though you could probably put some Bayou Blast or red cayenne in the spice mixture if you want it hotter. Yields about 2-3 small servings.

For a quick-fix soup, this is pretty good, but the flavor and texture could use improving, in my opinion. I made this as written; just used fresh chopped onions in place of the powder. The texture was too runny. I partially pureed the soup but even then it was too thin. I think doubling the black beans and adding maybe cumin and/or tomatoes would help. It's a good starting point soup, though. Thanx!
Rinse and drain the black beans. Put the vegetable broth in a saucepan and let it come to a low boil, then put the beans in and stir them in well.
Add the oil and stir it inches Add all the dry ingredients (which is pretty much everything else) and raise the heat.
Let it simmer on medium heat for 15 minutes.