ImPat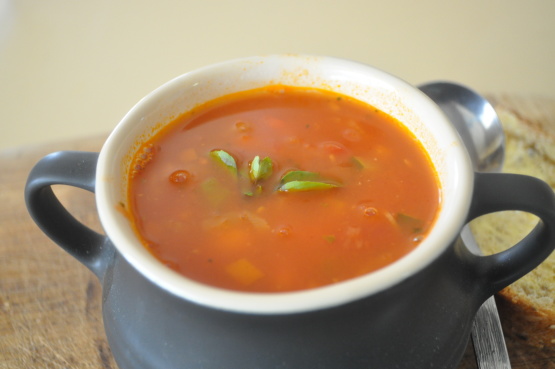 I made this recipe up because I needed a quick easy soup and my daughter had just turned vegetarin. You can use what you have in the refrigerator or in the garden. Very adaptable.

I didn't eat this myself. We had a dinner party and a vegatarian accepted our invite the morning of the party. So this was my find. First, as a non-vegetarian, the indicator 'small white bean' was a little distressing and I chose garbonzo beans because the pictures on the cans that one looked like the smallest white bean. The vegetarian at dinner did say they probably mean navy beans, but the protien content was higher in my version. I was told it tasted good, like a minestrone. I didn't have any V8 and used a can of tomatoe sauce. It did get compliments and the pot was finished off the next day by some other friends stopping by.
Saute garlic, onion, carrots, celery and red pepper until just barely cooked.
Mix with the beans in a large pot.
Add canned tomatoes with juice, V8 juice, vegetable boullion, herbs and water.
Heat to boiling, reduce heat and simmer for 1/2 to 1 hour.
Add frozen vegetables (optional) and bring to another boil.
Simmer 15 minutes.