Easy Upside-Down Berry Cake
Lei M.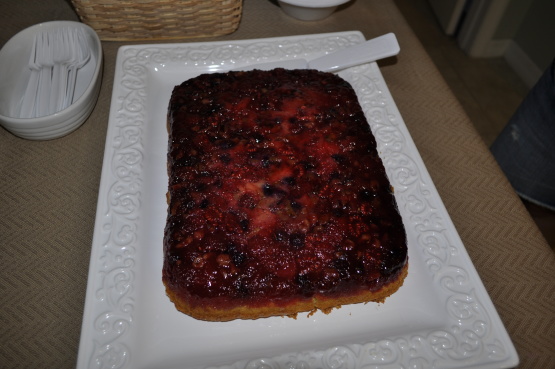 Got this recipe out of the Simple & Deliscious Magazine.. It uses a box cake mix for a fast easy dessert. You can use fresh or frozen blueberries and raspberries. The recipe calls for fresh Strawberries
Preheat oven 350 degrees.
In a greased 13 X 9 inch baking dish, layer the walnuts and berries; sprinkle with sugar, gelatin and marshmallows.
In a large bowl, combine the cake mix, eggs, water and oil;p.
beag on low speed for 30 seconds. Beat on medium speed for 2 minutes.
Pour over top.
Bake at 350 degrees for 30-35 minutes or until a toothpick inserted near the center comes out clean.
Cool for 5 minutes before inverting onto a serving platter.
Refrigerate leftovers.
Serve with whipped cream or ice cream.