Easy Turkey Chili - Crock Pot
Derf2440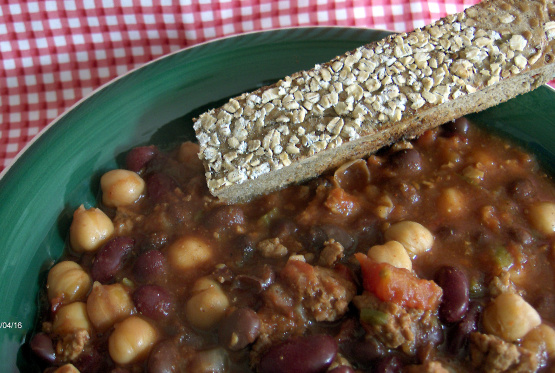 So easy and tasty. Throw the turkey chili all together the night before, turn it on in the morning and come home to a wonderful aroma. Serve with toast and a crisp green salad.

I am rating this a 5-star because it is fast, easy, healthy and economical. Honestly I thought it was a little bland but It makes a good base recipe, though, so I added some minced garlic, cayenne, hot sauce, worcester, green pepper and served it with lots of topping choices like avocado, cilantro, black olives, cheddar cheese, a squeeze of fresh lime, crushed tostito chips and sour cream. Problem solved, everyone gave it a big thumbs up. Next time I will sub cannellini beans for the chick peas (just a personal preference of texture). Anyway, it's a keeper and thanks for posting it!
Cook turkey and onion in a medium fry pan over medium high heat, scramble fry until no longer pink.
Drain off fat and transfer cooked meat and onion to crock pot.
Add all remaining ingredients and mix well.
Cook on high 6 to 8 hours.