Stacky5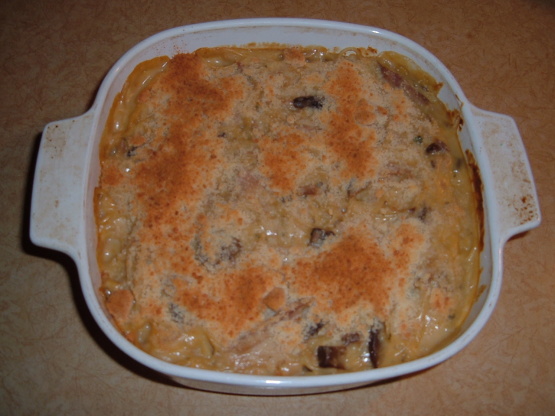 A great change from traditional tuna casseroles that is quick and easy to make. My kids used to call this "Spaghetti with Crispy Cheese".
Cook the spaghetti till just al dente in large pot of salted water, drain and place into a large casserole dish, or if your pot is ovenproof, just put back in the pot.
Meanwhile, saute the onion in the olive oil till soft. Add the mushroom soup and water and heat, stirring, till smooth and bubbly.
Add the tuna, parsley, herbs, olives, lemon juice and 1/2 cup of the cheese. Stir until mixed through and heated.
Pour the sauce mixture over the spaghetti and mix well. Sprinkle remaining 1/2 cup of cheese over top. (You may increase the amount of cheese if you wish).
Bake at 350, uncovered, till all is heated through and bubbly, about 15 minutes.
While leaving the casserole on the middle rack, turn oven on to broil and cook for 5 minutes or till the cheese on top is browned and crispy. Watch carefully to make sure cheese doesn't burn!