Evie3234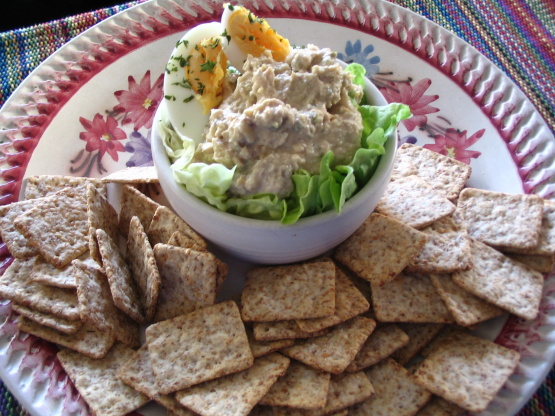 This is an easy appetizer you can literally whip up in 5 minutes - it's best if you prepare at least 6 hours ahead of serving to allow for chilling and having the flavors 'blend' together. Makes all the difference in the world.

This is a really tasty pate, I made this as one of the appies pre Christmas diiner, very popular it was too. So easy to put together, thanks for sharing it Evelyn.
Combine all ingredients (except garnish) in food processor and process 2 minutes or until mixture makes a stiff paste.
Line a 3-cup bowl or mold with plastic wrap; pack in pate mixture and cover with plastic wrap.
Chill atleast 6 hours, or until ready to serve.
Unmold onto serving plate and garnish with egg slices and parsley.
Serve with crackers and melba toast.