Easy Tuna Noodle Casserole
Annacia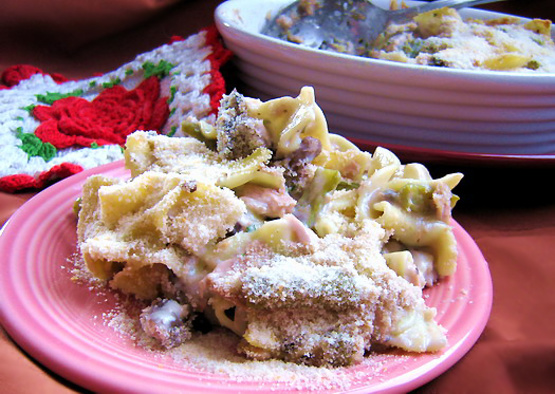 I love this casserole. This is a very tasty creation from Joanna Lund. It can be frozen and the portions are very generous. You get alot of bang for the few calories. Each serving is only 253 calories. The Diabetic Exchanges are: 2 Protein, 1 1/2 Starch and 1 Vegetable.

Outstanding casserole for the very low fat. I used dry bread crumbs in place of the cheese topping just as personal preference. I enjoyed the green beans as a change from the usual peas. I made 2 servings and they are very generous. The recipe took one pot and the baking dish to make = almost no dishes to wash (works for me!). On top of everything else it tastes great. It's a keeper in my book.
Preheat oven to 350 degrees.
Spray an 8-by-8-inch baking dish with cooking spray.
In a large bowl, combine noodles, tuna, mushrooms and green beans.
Add mushroom soup, onion flakes, parsley flakes and black pepper.
Mix well to combine.
Spread mixture into prepared baking dish.
Evenly arrange American cheese slices over top.
Bake for 25-30 minutes.
Place baking dish on a wire rack and let set for 5 minutes.
Divide into 4 servings.
HINT: 1 3/4 cups uncooked noodles usually cooks to about 2 cups.