Pneuma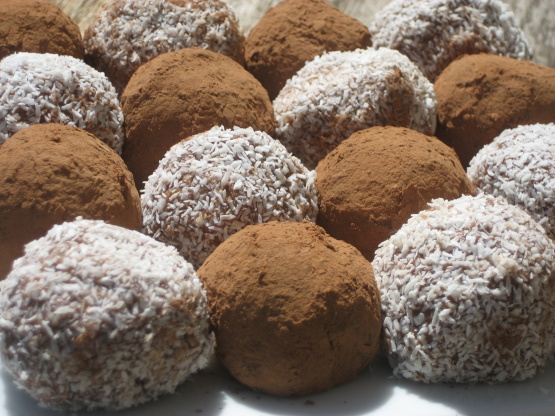 These are really simple to make, and yummy :-) The original recipe came from a children's Christmas book

I'm sorry to say that I did not have good results with this recipe. The dough did not set up after 2 hours and was impossible to roll into balls. So I added more crushed biscuits to thicken it up and again refrigerated the dough for a few hours longer. I rolled the balls in coconut, cocoa and some in crushed walnuts. They looked just as nice as those in the photo. The flavour was okay but no one seemed to love them. I see others had success with this recipe so I don't know where I went wrong.
8

ounces digestive biscuits (1 packet)

4

ounces butter

1

(14 ounce) can condensed milk

4

tablespoons desiccated coconut

4

tablespoons cocoa powder

Toppings

desiccated coconut
Crumble up the biscuits as much as possible.
Melt the butter.
Mix all of the ingredients together.
Once mixed put into the fridge for about 2 hours, or until set.
Roll the mixture into truffle sized balls then roll the balls in the toppings.
Put back into the fridge until serving.