kaithun1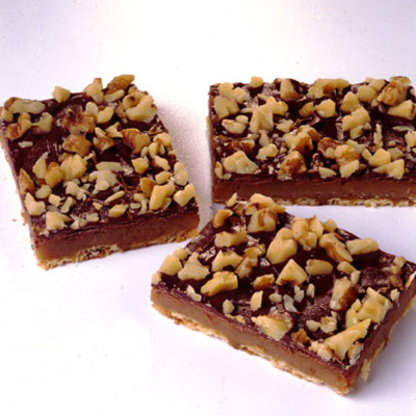 I was surprised this recipe wasn't on zaar yet. I got this recipe from Carnation and have been making it for a couple years. I tried one of the other versions on zaar, which are similar but does not have the sweetened condensed milk in it. I like this recipe much better! I hope you enjoy :)

I made two batches of this toffee this Christmas to add to the trays of goodies I give to the neighbor's. All of them commented on how good these bars were, and couldn't believe there were soda crackers in it! It's so easy to make, and very impressive as a gift. Thank you for posting!
Directions:.
PREHEAT oven to 425°F Line 15 x 10-inch jelly-roll pan with heavy-duty foil.
MELT 1/4 cup (1/2 stick) butter in medium saucepan. Pour into prepared jelly-roll pan. Arrange crackers over butter, breaking crackers to fit empty spaces.
MELT remaining butter in same saucepan; add sugar. Bring to a boil over medium heat. Reduce heat to low; cook, stirring occasionally, for 2 minutes. Remove from heat; stir in sweetened condensed milk. Pour over crackers.
BAKE for 10 to 12 minutes or until mixture is bubbly and slightly darkened. Remove from oven; cool for 1 minute.
SPRINKLE with morsels. Let stand for 5 minutes or until morsels are shiny; spread evenly. Sprinkle with nuts; press into chocolate. Cool in pan on wire rack for 30 minutes. Refrigerate for about 30 minutes or until chocolate is set. Remove foil; cut into pieces.