Easy-to-Prepare Honeydew Sago Pudding
Mel R.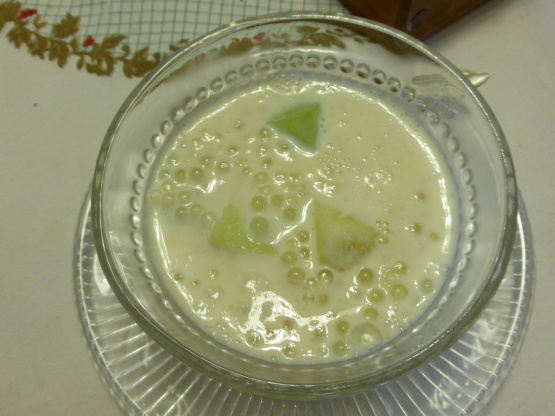 A light, easy-to-prepare, delicious dessert! Perfect after a heavy meal. Plus the yellow-and-white combination looks wonderful! (the 3 hours cook time includes the time taken to chill the dessert)

Top Review by o0o0o
This is very similar to an authentic Chinese honeydew sago dessert soup, just a little thicker and richer. Fabulous recipe, super easy to make. If you want the dessert to look a little more exotic, puree 1/2 cup of honeydew melon and add to the cooled mixture to make a funky green dessert soup. Thanks for the recipe!
3

cups milk (low-fat if you prefer)

3

tablespoons sugar
1⁄4 cup sago
2 1⁄2 cups honeydews (diced into 1-inch cubes)
Soak sago in water for 5 minutes.
Bring milk to a boil- keep stirring or else the milk will stick to the bottom of the pot.
Add sugar to milk.
Drain the sago and add sago to milk.
Cook milk/sago mixture until sago changes colour (it will change from white to translucent after a couple of minutes).
Add diced honeydew after milk/sago mixture has cooled.
SERVE CHILLED!
(P. S: you might want to add more sugar to if you like it sweeter, and you might want to add more milk if you find the mixture too thick).