Easy Teriyaki Pork Roast (No Marinating)
Brenda.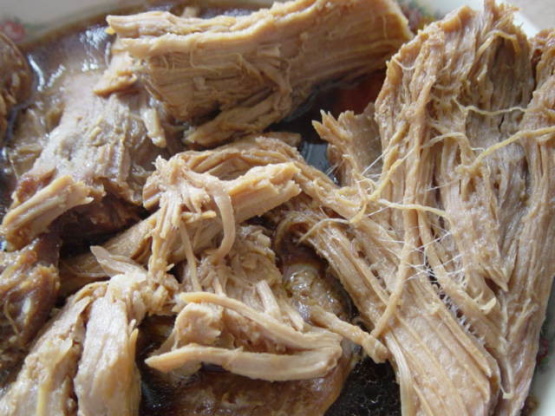 I needed to put dinner in the oven ASAP and had no time to marinate. After looking around on the web, I combined a couple different recipes and came up with this. We really enjoy it...hope you will too!

Top Review by Bliss
I made this once before, but accidentally added twice the amount of soy, and it was overpowering. This time, I did it just as called for, and it was delicious. I didn't brown the roast, but just put it in casserole dish and place it in a toaster oven (it's 103F here today). It worked just fine. I ended up sampling it a bit, and then making two wraps with this, and some shredded cheddar, onions, radishes, cukes and some garlic parmesan dressing sprinkled on. So very good, either way....
Preheat oven to 325*.
Brown pork on all sides in 2 tbl oil over medium-high heat.
Place pork in roasting pan.
Combine remaining ingredients and pour over roast.
Roast for about 3 hours (or until instant-read thermometer reads 165*), basting frequently and turning over a couple times.
Let sit for a few minutes before slicing and serve with juices.