Easy, Tasty Veal Osso Bucco
I'mPat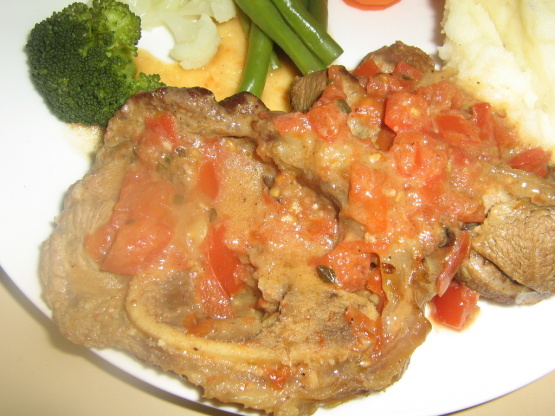 Everyone has their own variation of this wonderful dish. Mine cuts out some of the effort and ingredients - but none of the flavour! I usually substitute the olive oil for oil spray. Bouquet garni is made by tying the thyme, bay leaf and parsley together (I usually just use an elastic band). I often serve this with gnocchi - but works well with mash, polenta, risotto or even pasta noodles. Enjoy

Top Review by I'mPat
Overall a good a recipe, I did get a little confused about shanks (my immediate thought is something like lamb shanks) but an Osso Bucco cut is more like a steak with the bone in it. For some reason tonight I could not get the flame right under the pot it was either boiling like heck or barely cooking and as I did want to cook it really slow I put it in a 150C fan forced oven for about 1 1/2 hours (after 10/15 minutes on stove top) turning the chops/steaks a few times (I had 9 with a total weight of just over 2K). The DH wasn't keen on it but the rest of us loved it. Thank you amanda 1b, made for PAC September/October 2009.
Put the veal and flour into a plastic bag, seal and then shake so that the veal is coated in flour.
Heat the oil in a deep, heavy based pot. Add the veal and cook all sides so that the veal shanks are browned. Remove from the pot.
If necessary, add a bit more oil to the pan. Add the onion and cook about 5 minutes until browned, Add the garlic and cook and extra minute.
Add the stock and wine to the pan. Cook until bubbling.
Return the veal shanks to the pot, and also add the chopped tomatoes and bouquet garni (see description above).
Add salt and pepper to taste.
Reduce heat and cook for an hour or until meat is falling off the bones.