Easy Tasty Roasted Red Pepper Soup
Sageca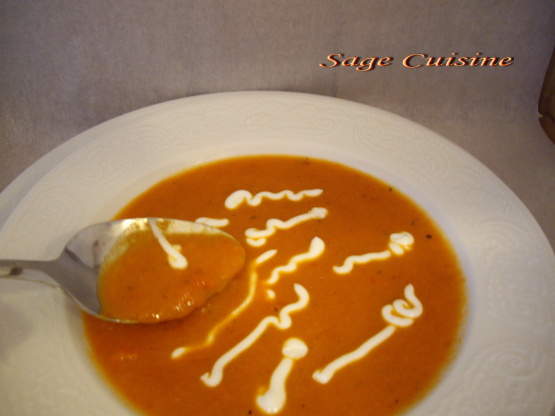 An easy recipe with canned roasted red peppers. Perfect as an entrée for 4 or a dinner for 2 served with a baguette. Harissa is chili paste that makes it very tasty; add your favourite.
.Heat 1 tablespoon of oil in a heavy large pot over medium-high heat. Add the onions, carrots, garlic and saute until the onions are translucent, about 5 minutes.
.Add the broth, bell peppers, potato and sugar. Bring to a simmer over high heat.
.Decrease the heat to medium-low. Partially cover and simmer until the potatoes are very tender, stirring occasionally, about 30 minutes. Cool the soup slightly.
.Using an immersion hand blender, puree the soup in the pot until it is smooth. Season the soup, to taste, with salt and pepper and Hasissa.
.Ladle the soup into bowls. Drizzle with sour cream. Sprinkle with a few croutons for a change.