Easy & Tasty Fish & Tomatoes
spinster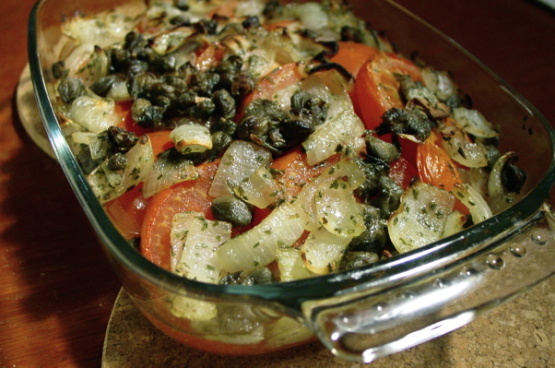 This is an easy, quick and healthy dish that I make pretty often. Great with pasta or mashed potatoes.

I have used this recipe and similar for many years. It is light, tasty and healthy. There are changes that can be made easily to suit your taste and I usually top it with grated parmesan or cheddar. Also add black olives because my husband loves them. Thanks for submitting such a nice simple and tasty recipe. Incidentally I nearly always use haddock because it is very good in this area.
Season the fish fillets with salt, pepper and paprika powder to taste.
Put the fillets on the bottom of a rectangular oven-proof dish.
Sprinkle fish fillets with the lemon juice.
Cut tomatoes into 5 mm thick slices.
Cover fish with the tomatoes, making sure that they're covered well (leave no gaps).
Heat the olive oil in a small frying pan or pot. Add onion and crushed garlic, stir until onion is translucent.
Add capers and chopped parsley, mix well and let the mixture cook for one additional minute.
Cover the layer of tomatoes with the herb-onion mixture.
Put into preheated oven and let bake for 30 minutes @ 200 degrees Celsius.
Variations: it's possible to use other types of fish and/or to replace the parsley with other herbs (dill and tarragon would be obvious alternatives).
This is also an excellent barbecue dish; instead of using an oven-proof pan, put one fish fillet with some tomato slices and herb mixture in a "papillotte" of aluminum foil and put this "package" on the grill.