Anonymous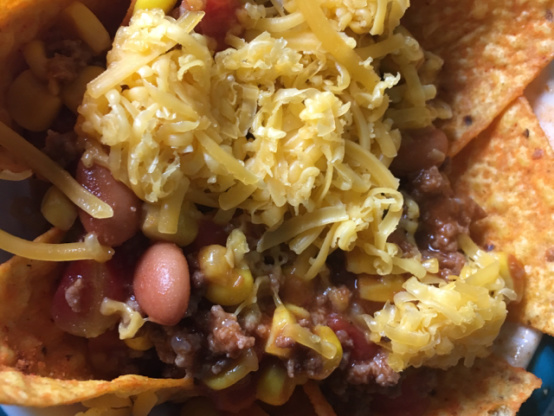 This is so easy to make. Very flavorful. This recipe can easily be doubled.

Top Review by JRiggs
This stew was fast and easy to make and it tasted great! I actually used some leftover chicken I had on hand instead of hamburger. I loved the chicken in it and can't wait to try the hamburger. It was a little spicy for us so when I served it I added a spoonful of sour cream.
Brown the beef and onion in a dutch oven, then drain.
Add all ingredients to the beef/onion mixture, except for the tortilla chips and cheese.
Cook over medium heat until thoroughly heated.
TO SERVE: Crumble a handful of either tortilla chips or Doritos in individual serving bowls and cover with a generous helping of stew.
Sprinkle with cheese.
HINT: You can reduce the heat by substituting the pinto beans in chili sauce with either red kidney beans, plain pinto beans, etc.