Pamela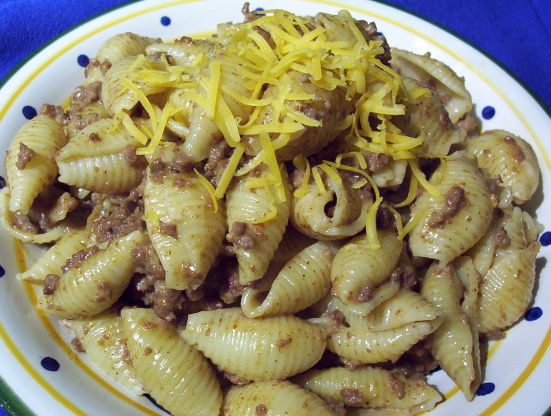 I needed something quick and threw these things together trying to duplicate a recipe I had years ago. It came out better than I remembered, and my son demanded I make this every night (after eating four plates).

I gave this recipe a 4 star rating since I added so many items to it. First I used elbow mac as I didn't have any shells on hand. I added about a 1/2 cup chopped onion when browning the meat. As I used about 1-1/2 lbs meat I added additional chili powder, garlic powder, cumin and cayenne pepper when I added the taco seasoning. I then dumped in a can of Rotel tomatoes to the meat mixture. To make this more of a one-dish meal I drained a can of corn and dumped it in as well. Sprinkled the top with a little cheddar cheese before baking at 350 for about 15 minutes. My family liked it and I loved the fact that it was simple and quick.
Cook pasta according to package directions.
Brown ground beef until no longer pink.
Add taco seasoning and water to beef per package instructions.
In large glass bowl, add pasta, melted Velveeta, and beef mixture.
Stir until well blended.
This can be put in a casserole dish and heated if desired.