Bergy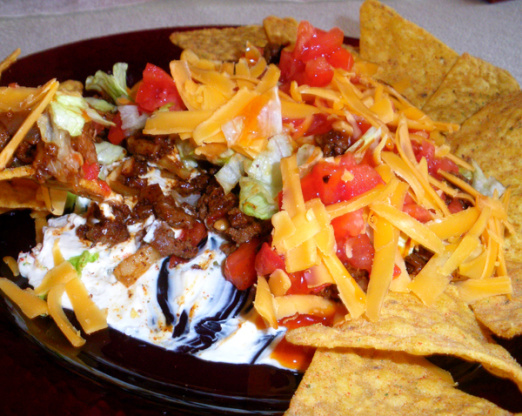 This is a great appetizer dish, I have made it quite often for parties, never had a empty platter with this recipe, I am sure you will love this one. My taco seasoning mix Kittencal's Taco Seasoning Mix works well for this. You can adjust all amounts to taste.

Love this recipe. Very similar to mine. The only real difference is that I don't use as much barbecue sauce. Everyone loves this dish.
In a skillet, cook the beef with onions and garlic over medium heat until no longer pink; drain.
Add water and taco seasoning, simmer for about 5 minutes.
In a bowl, combine the cream cheese and milk; spread on a serving platter or pizza pan.
Top with the meat mixture.
Sprinkle with chilies, tomatoes, onions and lettuce.
Drizzle with barbecue sauce.
Sprinkle with cheddar cheese.
Serve with large size corn chips.