Derf2440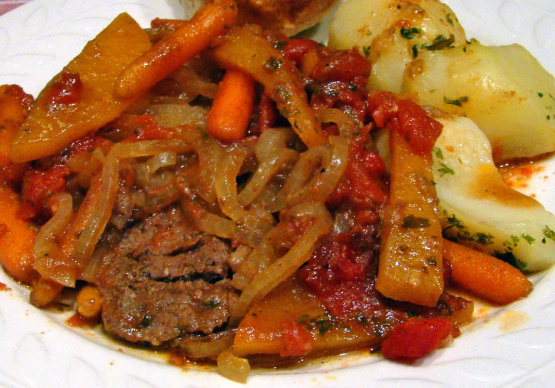 An easy to make one dish meal that I found in a grocery store cookbook. Add hot rolls and it is dinner! Yum!

Lucious swiss steak!! I made this with sirloin steak and browned them before putting them in the oven. Then made homemade mashed potatoes to serve along side the steak. The gravy on the steak is delicious! A very easy dish to make. Had green beans and salad, wonderful meal. Will make again! Thanks Terri F!!!
Heat oven to 325 degrees Fahrenheit.
Cut beef into serving size pieces and arrange in 2 quart baking dish.
Top beef with carrots and onion.
In a bowl, combine gravy, tomatoes, 1/4 teaspoon thyme and pepper; mix well.
Pour gravy mixture over meat and vegetables.
Cover with foil.
Bake for 2 hours.
Make the instant garlic mashed potatoes as instructed on the package, adding 1/4 teaspoon thyme and dried parsley.
Uncover meat, top with dollops of potatoes (you can pipe the potatoes on top to make it prettier if you want).
Bake uncovered an additional 20 minutes until potatoes are just light brown.