David A.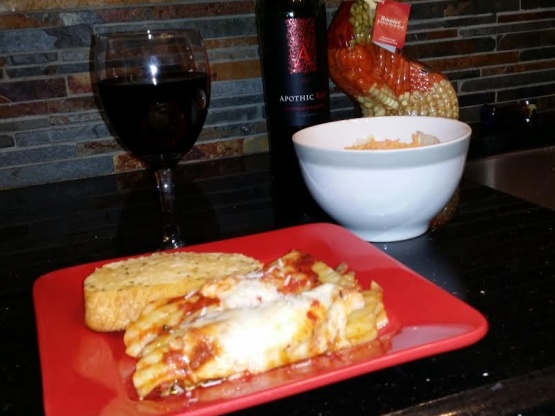 This is so simple and easy. You do NOT have to boil the shells or cook the meat ahead of time(you dont pre-cook your meat for meat loaf, do ya?) It all cooks perfectly together in the oven.

Top Review by Cynna
I must admit, I was skeptical at first, but this dish turned out wonderfully! I omitted the beef and added mozzarella to the mix and made my own sauce. Completely easy and delicious! The sandwich baggie tip worked great! I will be making this again and again!
Spread 2 tblsps of sauce in the bottom of a 9x13 pan.
Combine first 8 ingredients together in a bowl.
Take shells and stuff with the meat mixture.(I find it easier to use pastry bags filled with the meat mixture to stuff the shells or you can cut the end of a sandwich baggie and stuff them that way. Less messy and much faster.).
Place shells in pan and pour remaining sauce of shells.
Bake at 350 for 45 minutes, remove from the oven and top with mozzeralla cheese. Return to oven and bake and additional 15 minutes.
Remove and enjoy.
Goes wonderfully with a tossed salad and garlic bread.