Easy Stuffed Cabbage Soup
Derf2440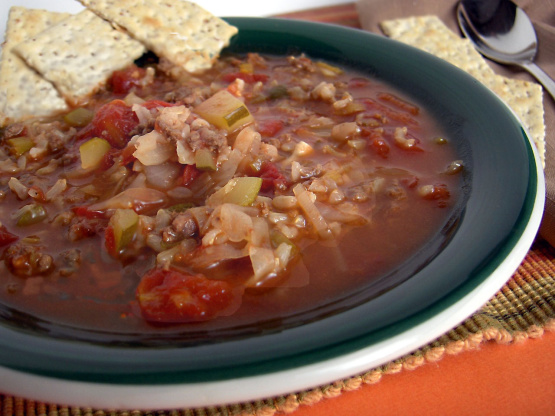 This recipe adapted to help me stick to a 'good' carb eating program for weight loss. The whole family loves it! Very easy to make too! Note: You can substitute canned beef broth for the 'beef base' if you want. I also recommend the low-sodium kind. Also, once the rice is cooked through, if it looks like more water is needed, go ahead and add it to your liking.

This is a simple but good soup. With a few changes it was very good. I followed the recipe as written other then I only used 6 cups of water. I thought it was a bit bland so added a total of 8 beef boullion cubes. I used a 16 ounce bag of coleslaw mix and didn't add the zucchini as I didn't have any. I also added a good bit of pepper. The longer this sits, the better it is. We really enjoyed this with the changes made.
Brown ground beef in skillet, drain and place in soup pot.
Add water, beef base (or cubes), dried onion and canned tomatoes.
Bring to a boil for about 10 minutes.
Add cabbage, zucchini and brown rice.
Turn down heat to low, place a lid on soup pot and simmer for about 45 minutes.
Add salt and pepper to taste.