Easy Stir Fried Vegetables
Lvs2Cook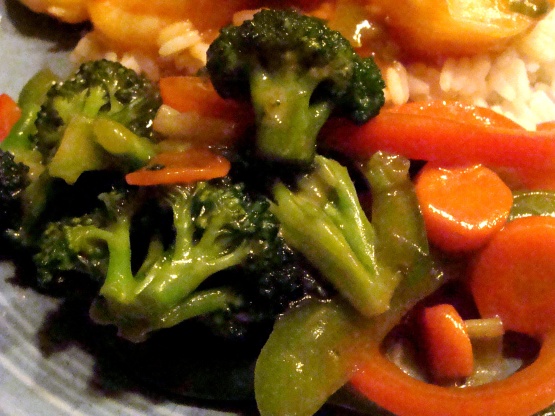 One of the things I really like about stir-fry is that you can add or subtract whatever vegetables you like and it still tastes great. It's such a great way to use up those veggies in your fridge, so please, use whatever you have on hand. All of these veggies can be found year-round so it's easy to make whenever you are in the mood.
Saute the peppers, carrots and broccoli in oil in a wok or large skillet until the veggies are crisp-tender, about 3-4 minutes.
Combine the soy sauce and ginger and add to the pan with the green onions and stir-fry for 1 minute.
Combine cornstarch, broth and water and whisk until smooth and gradually stir into the vegetables.
Bring to a boil and cook and stir for 2 minutes or until thickened.