Easy Spinach and Mushroom Tart (Side Dish)
Zurie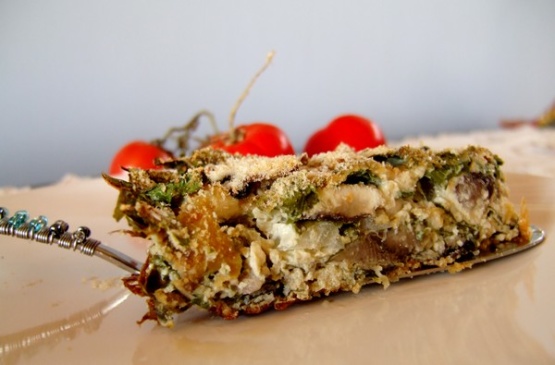 This is based on my other quickie, Very Rustic Spinach and Feta Tart, but it contains no feta and no cream. Some evenings I am truly lazy when it comes to cooking dinner, but we are not fans of frozen or tinned vegs. So this is a life-saver, because no other side dish is needed when you make this, it's no-nonsense and very quick. Do not use swiss chard, because the leaves are too hard and tend to dry out on top: use the soft English spinach with the small leaves. I buy the conveniently cleaned spinach in the bags. Some small yoghurt containers are 5 oz (150g) and others are 6 ox (175 g). Won't make a difference which you use.

SO, SO YUMMY! I made a few minor changes: 3 - 4 ounces added grated Fontinela cheese. I sautéed the mushrooms until the edges were browned, sautéed the onions & garlic. I felt 1 teaspoon of Season Salt was too much, I will cut back next time. I did add Frank's hot sauce, I would recommend it. Sprinkled with Italian bread crumbs. This was amazing and it makes for a great meatless dinner when served with recipe#450004. I am thrilled to be the first to make, review & dine on this treat. Made for Cook-A-Thon in honor of Zurie's dear husband. RIP.
7 -8

ounces baby spinach leaves (200g approx)

7 -8

ounces mushrooms
1⁄2 cup onion, finely chopped (125 ml)

4

eggs, largest size you have (I prefer free-range eggs)

5 -6

ounces yoghurt, plain, Greek preferred (150 - 175 g)

1

teaspoon seasoning salt (7 ml, your favourite mixture)

1

teaspoon Tabasco sauce (or other hot sauce)

1 -2

teaspoon garlic, finely chopped

2

tablespoons olive oil

3

tablespoons breadcrumbs, dried
Heat oven to 325 deg F/160 deg Celsius.
Grease a tart plate with butter.
Tear up or cut up the spinach roughly, and put into a mixing bowl.
Add the chopped mushrooms and onion to the spinach.
Whisk the eggs in another bowl, and add the yoghurt, seasoning salt, Tabasco and garlic. Whisk well. Add to the spinach mixture.
Mix through well with a spatula, wooden spoon, or your hands!
Pat the whole lot into the greased tart plate. Use your hands to flatten it a little -- it should fit well into an ordinary-size tart pan or plate.
Drizzle over the olive oil, and then sprinkle with the dried breadcrumbs. Bake for 45 minutes, or until slightly puffed up and set.
* If you want, change the seasonings, or add more salt than suggested, as seasoning salt alone might not be enough. Nutmeg can also be added to the wet mixture.