Lvs2Cook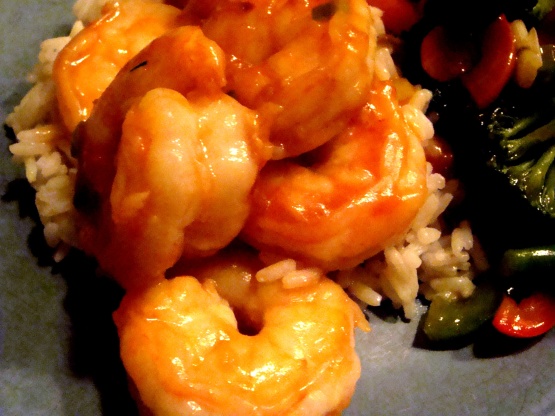 This shrimp recipe is wonderful -- and that is saying something coming from me because I am not a big fan of spicy. It is NOT that spicy, in fact DH did not even come close to breaking a sweat which is how he gauges how spicy something is. You can always cut down on the amount of red pepper flakes if you want.

My daughter and I had this the other night and while I thought it was ok, and with some tweaking would be very good, she didn't care for it at all. Simi is spice challenged and doesn't like anything hot so I left the pepper flakes out and just put them in mine but I had to agree with her that it didn't have much flavor. (1)
Mix together the water, ketchup, soy sauce, cornstarch, honey, red pepper flakes, and ground ginger in a small bowl and set aside.
Heat vegetable oil in a skillet over medium-high heat and stir in the green onions and garlic and cook for about 30 seconds.
Stir in the shrimp and stir them around to coat with the oil.
Cook until shrimp are pink and cooked through ~ just a few minutes.
Stir in the sauce and stir until sauce is thickened and bubbly.
Serve over rice.