Easy Spiced Fresh Peach Cobbler
KGCOOK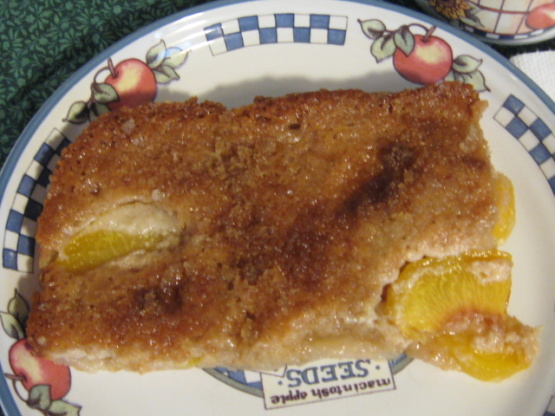 Ever found an empty pan of something in your fridge? I did! I found this recipe in a book. It was rather plain so I added my own tasteful touches and served it to my family. They loved every bite and it was gone in just a few hours. If fresh peaches are out of season then use the best frozen peaches you can but cut back on the sugar.
Preheat oven to 350 degrees.
Coat a 13 X 9 inch baking dish with non stick spray.
Put butter in pan and put in oven to melt.
Meanwhile, In a mixing bowl, blend dry ingredients EXCEPT BROWN SUGAR together.
Add milk and stir well.
Using oven mitts, remove the baking dish from the oven if butter is melted.
Pour batter into dish and even out.
Spoon peaches wiwth some juice (if any) evenly over the batter.
Bake at 350 for 30 minutes then check for doneness.
(Mine baked 40 minutes, sister's baked 30).
Cobbler is done when batter rises and browns on top and firm in center.
Sprinkle brown sugar over the top.
Cover with foil (or other top) immediately so that sugar can warm up and stick to the cobbler.