Easy Spaghetti Meat Sauce
cle0369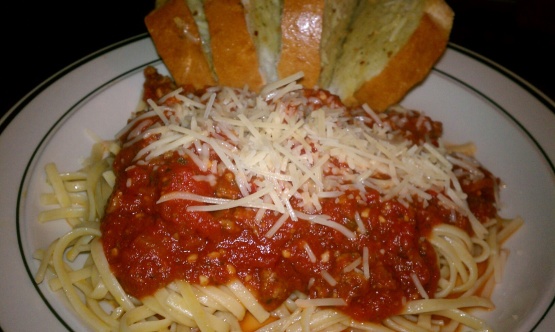 A simple, easy Homemade Spaghetti Meat Sauce. I have never bought bottle sauce again. This is a versatile recipe.

Made for Spring PAC 2014 and I am so glad I did. Like ChefDLH said this is a thicker sauce but very tasty. DH gobbled his down and would like this again. I did add a pinch of sugar which I do with any tomato sauce. Served with a green salad and garlic bread. Thank you for posting.
1. Combine ground beef, onion, garlic, mushrooms and green pepper in a large saucepan. Cook and stir until meat is brown and vegetables are tender. Drain grease.
2. Stir diced tomatoes, tomato sauce, and tomato paste into the pan. Season with oregano, basil, salt, and pepper. Simmer spaghetti sauce for 1 hour, stirring occasionally.