Easy Spaghetti and Meatballs
Charmie777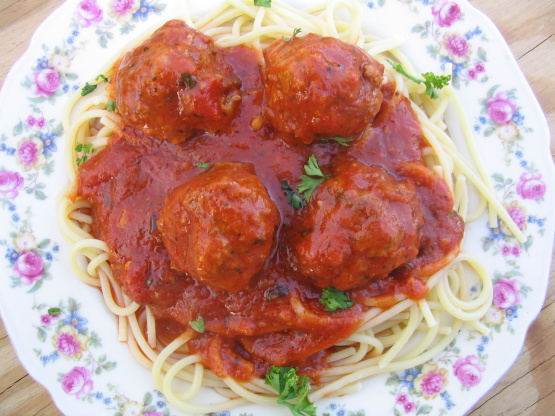 This is a very tasty dish that I've had lots of compliments on, even tho I cheat and use jarred sauce (shhh)...I think the slow simmering of the flavorful meatballs really makes this taste homemade all the way!!! This makes a lot, so I usually use the leftovers to make meatball subs.

Thank you for this great 5-Star recipe! I hadn't made spaghetti & meatballs for over 25 yrs. because it took too much time & effort. This recipe is so quick & easy I can't help but make it often. I added a bit of chopped onion and just a tiny bit of chopped garlic, instead of a whole clove the 2nd time I made this recipe. I used my cookie scoop to shape the meatballs & it made things go even quicker.
Place sauce in a large saucepan and simmer over medium heat.
In large bowl mix beef, eggs, crumbs, parsley, garlic, salt and Parmesan.
Shape into 18 meatballs.
Place meatballs in simmering sauce.
When sauce returns to a simmer, cover and cook 30-35 minutes (or more!) till cooked through.
Serve sauce and meatballs over warm spaghetti.