Easy Southwestern Grilled Chicken Rub and Marinade
Della W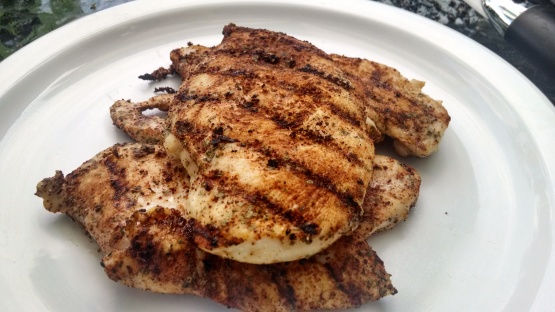 This one comes from Morton's salt and is a fine rub for chicken on the gas grill or for over the campfire when you're camping. You could also use it with equal benefit for baked chicken in the oven. The cooking time listed accounts for marinating time in the refrigerator. Enjoy!

Really great and quick rub. I used it to rotisserie a chicken on an outdoor grill so made it half way between, I made a paste using olive oil so it would brown well, but kept it fairly thick using equal amounts of powder to oil so would stick OK while turning. Came out a treat!
Blend all ingredients.
Rub this blend on to individual chicken pieces and allow to marinate in the refrigerator for one hour prior to grilling.
NOTE: This blend can also be converted to a paste by whisking in 3 tablespoons of olive oil per every tablespoon of rub blend. Use the paste on steaks or roasts.