Easy S'more Clusters - Indoor S'mores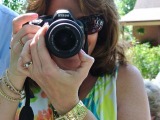 For when you have a craving but no campfire. ;) From Hershey
Directions
Place candy pieces in medium microwave-safe bowl. Microwave at MEDIUM (50%) 1-1/2 to 2 minutes, or until chocolate is melted when mixture is stirred.
Stir in marshmallows and graham cracker pieces until well coated.
Drop by spoonfuls into miniature paper muffin cups (1-3/4 inches in diameter). Cover; refrigerate until firm. About 2-1/2 dozen snacks.
Reviews
Most Helpful
Make this all the time, yummy

very easy treat to use up camp-out leftovers! I chopped up regular sized marshmallows and they were still great.
These are so tasty! Instead of chocolate bars I used semi-sweet chips - for ease and also because I prefer darker chocolate. I also used half honey grahams and half cinnamon grahams. I just dished out onto wax paper instead of into paper muffin cups so mine are probably slightly bigger than intended (I got 23). I will be making these again, for sure. Thanks Marg!

Summer Central