Easy Slush or Sorbet (For Adults)
gailanng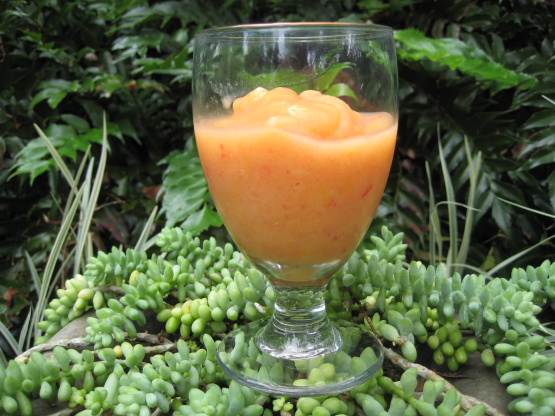 A lightly sweet slush. You'll never to be without canned fruit again. See Variations below. Prep time doesn't include freeze time. Not for children.

Fabulous! And dangerous! Way too easy to forget this has liquor in it :) I bought fruit cocktail then realized I didn't have Amaretto so I used whiskey. I used the smoothie setting on my blender and it came out smooth and creamy. Will definitely try this again with other fruits and liquors. Thanks for sharing Gailann!
1

(15 -17 ounce) can fruit cocktail in heavy syrup (not light syrup, it will not be sweet enough)

2

teaspoons lemon juice

1 -2

tablespoon liquor, such as Amaretto
Place unopened can in the freezor for at least 12 hour or until frozen solid. (It can be left frozen for several months). Submerge the unopened can in hot water for a few seconds to loosen the edges, then open the can and transfer contents to a food processor, using a kitchen knife to cut it into several chunks.
Add lemon juice and liqueur. Process, pulsing on and off until smooth. Serve immediately in glasses or scoop the sorbet into balls and refreeze for up to 8 hours before serving.
OTHER CANNED VARIATIONS.
Apricots with Amaretto.
Figs with marsala or Sambuca.
Pears with Poire Williams or green creme de menthe.
Peaches with Bourbon.
Plums (remove pits) with Creme de Cassis.
Crushed Pineapple with Dark Rum (and 2 tablespoons canned cream of coconut for a pina colada).
Blueberries with Creme de Cassis.
Sweet Cherries with Kirsch.
Mangoes with Light Rum.
Litchi Nuts with Dark Rum.