Easy Slow Cooked Vegetarian Taco Soup
Parsley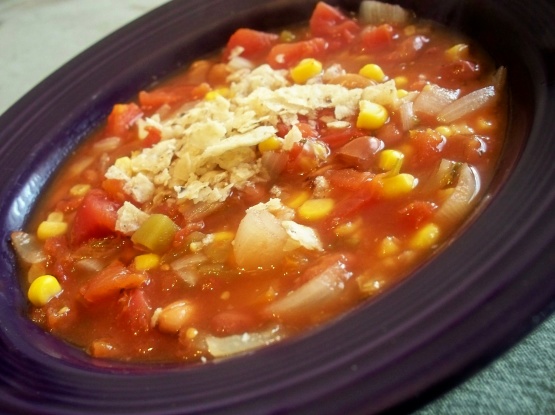 This recipe was one of many given to us in a pretty recipe box at my wedding shower. Easy and delicious, this comforting, aromatic soup is perfect for cold winter days. We like it with salad and quesadillas for a simple, delicious Mexican meal.

This tasted great and was perfect for my family's busy student schedule! I used rotel diced tomatoes with chilies added, and, per reviews, I doubled the amount of beans. I also added two cloves of garlic. I filled the bowls with corn chips and then poured the soup over it. DH and I topped our bowls with fiesta shredded cheese, sour cream, and cilantro. IMHO, the cilantro was what really tied all the flavors together, so make sure you've got it on hand. I'm about to make it again, and DH's face lit up when I told him what was for dinner. Thanks!!
Combine all ingredients in slow cooker.
Simmer for three or more hours.
Serve with grated cheese, tortilla chips, extra fresh cilantro and diced onions, shredded cabbage or diced radishes.