Easy-Slice Slow-Cooker Meatloaf
Netter6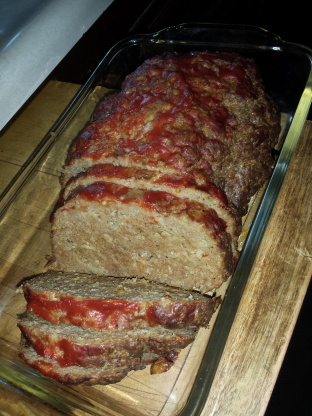 I love meatloaf, especially the cold leftovers between slices of fresh bread. But I haven't loved the inclination of many meatloaves from my past to crumble away from the slicing utensil. This deliciously dense loaf is different. It stays together for slicing like magic, even while it's still hot. And you won't believe how thinly you can slice the cold leftovers for the much anticipated sandwiches. This slow-cooker recipe takes about 10 minutes to assemble, and it cooks while you play with the kids, watch a movie, read a book, take a bath..... Clean-up is also quick, doubling down on this meatloaf lover's satisfaction.
Lightly grease the bottom of your slow cooker pot or insert a liner bag.
In large bowl, using very clean hands, mix all ingredients except optional 2 tablespoons ketchup.
Go ahead and squish it through your fingers! That's the best way to thoroughly combine everything.
Shape the meaty mass into a firm loaf that will fit into your slow cooker. For an oval slow cooker, the loaf will be about 3" across and 8" long.
Place the loaf into the cooker, and spread the remaining 2 tablespoons ketchup over the top.
Place lid on cooker, then turn it on to the low setting.
Cook on low for 6-7 hours. Resist the temptation to lift the lid before time is up.
Remove loaf from cooker, and place it on a platter or other flat surface for slicing.
Enjoy! Remember to save some for sandwiches.