Easy Skillet Sausage and Polenta #Ragu
zarlene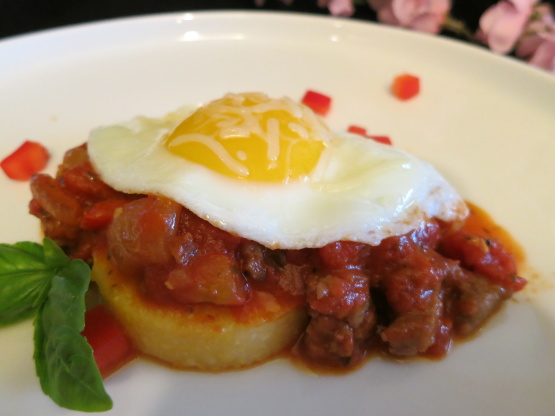 Ragú® Recipe Contest Entry. This quick and easy one skillet dinner is ready in less than 20 minutes.
Cut polenta into 6-1 inch slices. (Save remaining polenta for later use or discard) In a large skillet, over medium heat, brown polenta in 2 tablespoons olive oil, 2 to 3 minutes on each side, until slightly browned. Remove from skillet and keep warm.
In the same skillet, over medium heat, cook sausage and onions until sausage is cooked and onions are tender. Add garlic and cilantro and cook a minute longer. Add Ragu and continue to heat until sauce is bubbling. Reduce heat to low and gently crack eggs into skillet, spoon a little sauce over the eggs. Cover skillet and continue to simmer until eggs are set. (About 8 minutes, longer if you want harder eggs) Scoop eggs and sauce over polenta and top with cheese. Garnish with cilantro and tomato, if desired.
Makes 6 servings.
*Prepared polenta is available in most grocery stores in the dry pasta aisle.