Easy Skillet Cheese-Topped Chili Macaroni
Parsley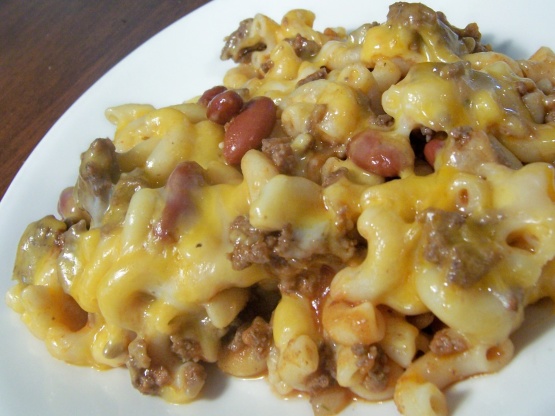 This is a quick and easy recipe for a weeknight meal. Its very tasty and very filling. DH loves it when I make this and always takes leftovers to work!

Realizing this is a homemade Hamburger Helper, I didn't pre-cook the pasta to al dente. Just throw it in with a little more water. It worked great and WAY less effort than boiling them first. Family loved this!
In a large skillet, brown onion and garlic with ground beef.
Drain and return to pan.
Add kidney beans, tomato sauce, water, chili powder, and salt.
Cover and simmer for 15-20 minutes.
Add cooked macaroni and stir.
Add grated cheddar to top, cover and simmer just until cheese melts.