Easy Shrimp Pasta for Two
JustJanS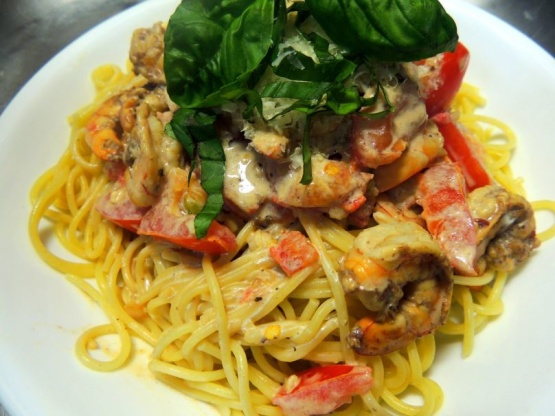 This recipe is from kraftfoods.com. It is easy to fix and a great weeknight meal for 2. I made a few changes for my personal taste.

This was amazing tonight thanks Paula. We are currently travelling in what Australians call "the outback" so we have to use what we can get. We bought 5kg of prawns recently, but they are smaller than you wanted and we also had a thin spaghetti rather than fettuccini. I used a tablespoon of balsamic and one of oil for the vinaigrette and regular vine ripened tomatoes. We love sauce, so I added in a quarter cup of pasta water at the end to extend the prawn, tomato, cream cheese mix. This is one of those dishes I wish had never finished or I could eat again tomorrow.
Add the shrimp to a small bowl and pour the dressing over the shrimp; cover and refrigerate for 20 minutes.
Remove the shrimp from the marinade; set aside reserving the marinade.
Heat a large skillet over medium heat; add shrimp and cook 3 minutes or until shrimp turn pink, stirring frequently.
Using a slotted spoon, remove the shrimp from skillet; cover to keep warm, set aside.
Add the tomatoes, reserved marinade, cream cheese, red pepper flakes if using and 1 tablespoon of the basil to same skillet; cook and stir 3 minutes until well blended.
Add the shrimp; cook until heated through, stirring occasionally.
Place the hot fettuccine on a large serving platter; top with shrimp mixture, sprinkle with remaining basil and grate cheese over all.