AFWifey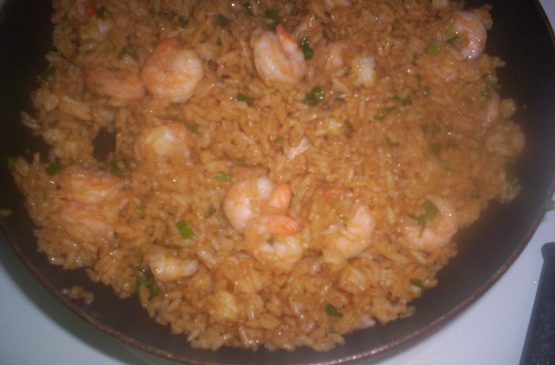 Very tasty, quick, and simple.

I was craving chinese food so this worked well- I just made a few changes. I sauteed the onions in the olive oil and added about a cup of frozen mxed veggies. Sauteed that and added my white rice and about 3 tablespoons of soy sauce (more or less). Once that got a nice color I added the shrimp, tossed it all together and it was very good. This is a good starter recipe- add your own flair.
Pour olive oil in skillet over medium/high heat. Stir-fry shrimp until pink. Set aside when done.
Melt butter in skillet, add yellow onion, sauté.
Add green onion and soy sauce. Mix in rice and make sure its evenly coated.
Stir in shrimp and fry until steamy hot (don't let it get mushy).
Remove from heat and serve immediately with chicken stir-fry or eat by itself.