Sarah L.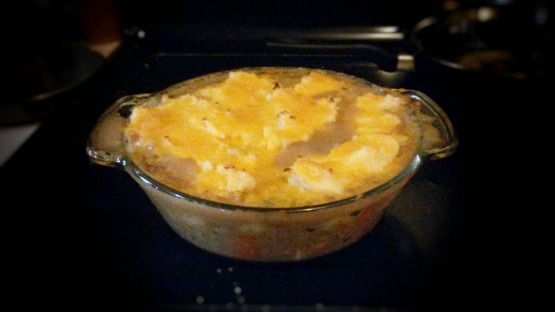 Easy and affordable meal I used to make as a kid. My family loved it.

This was easy to make. The only change I'd make in the future would be to lower the garlic salt and add straight garlic. It came out a bit salty for my taste. The most impressive thing was that my wife and both my kids liked it and ate without any arguing (A rarity in my house)
Brown ground beef and add onion; cook until onion is transparent.
Add soup, veggies and garlic and mix, pour into a oblong baking dish.
Spread mashed potatoes on top and sprinkle with cheese.
Bake at 350°F for 30 minutes.
•Looking for a variation on this recipe? Try this: Instead of topping with mashed potatoes and cheese, top the casserole with a single layer of tater tots instead. This is also a big hit.