cdn_gal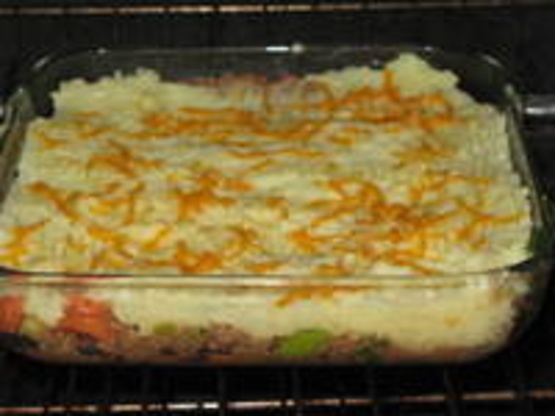 This is a great recipe thats easy to prepare with not many ingredients. Enjoy with a side salad for a complete meal.

I thought I reviewed this recipe early this week but I dont see it up. So, Ill do it again! This is the same recipe I use to make our quick and easy shepherds pie. I sometimes use a can of Cream of Mushroom for the gravy and make the mashed potatoes by hand... Thanks for posting this!
Preheat Oven to 325'F.
Use vegetable spray on casserole dish.
Prepare instant mashed potatoes following box directions.
Boil frozen vegetables in saucepan.
Brown ground beef.
Add 1/2 can of beef gravy.
Add garlic powder.
Stir until well blended.
Drain vegetables.
Add the beef mixture to casserole dish.
Add the vegetables and spread evenly.
Add large spoonfuls of the mashed potatoes
over the vegetables.
Wait a few minutes for potatoes to cool before spreading.
Make a design with bottom of fork on the potatoes.
Sprinkle some paprika.
Bake for 30 minutes.
Cool for 15 minutes before slicing.
Add remaining warmed gravy to each serving.