Roadygrl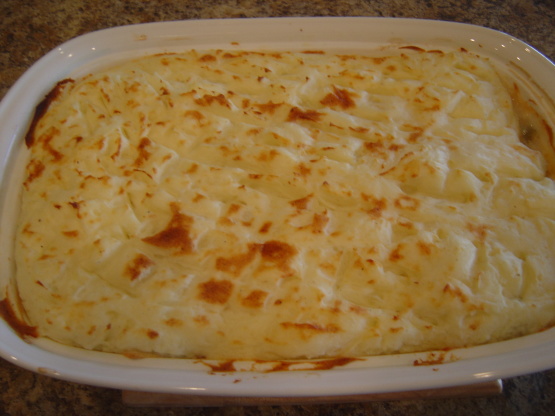 An easy weeknight favorite! Great served with salad and crunchy bread! Got this off the back of the Idahoan Potatoes box... with this recipe, we prepare the Mashed Potatoes the way we like to serve them (butter, sour cream, etc...) before putting on top of the casserole. We really like it that way, but its all personal preference I guess... Enjoy! Posting for access to shopping list.

This was good! It was a great place to start. I, of course, made some changes. We used a can of mixed veggies instead of green beans. In the meat sauce I added worcestershire sauce, red wine and a little tomato paste. I also omitted the egg white.
Preheat oven to 350 degrees.
Brown meat, onion and garlic.
Drain.
Salt and pepper meat.
Spread in bottom of 2-quart casserole dish.
Pour tomatoes on top.
Follow with green beans.
Spread potatoes over everything.
Brush top with egg.
Cook 30 minute.
Broil 1 minute to brown.
Serve and enjoy!