Boomette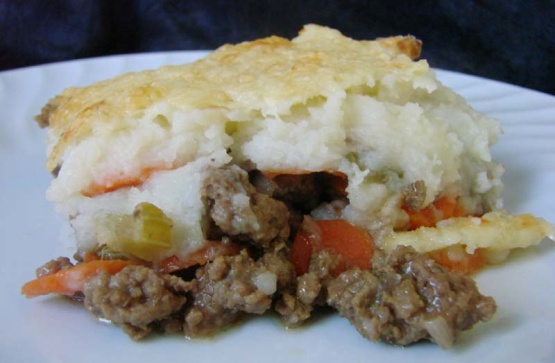 This recipe is so easy, yet so delicious. You can change up the type of meat (I have used a combo of beef, chicken and/or sausage) and use whatever veges you choose. It always comes out a winner! Whenever I bring it to a carry-in, I am inevitably asked for the recipe! I highly recommend you use Certified Angus Beef when preparing this dish ... you will taste the difference!
Delicious! This was my first Shepherds Pie and my husband and I loved it!
Saute beef, onion, celery and garlic in a large pan until well done.
Strain off fat, leaving meat in the strainer and reserving pan for later use.
Boil potatoes until fork tender, about 20 minutes.
Drain and mash with butter.
Blanch carrots (or microwave until al dente) and add to beef mixture.
Whisk broth with flour to thicken, and add to the pan. When gravy comes to a boil, add beef and carrot mixture.
Reduce heat and simmer for 5 minutes.
Spoon meat mixture into a 2-quart casserole. Spoon potatoes on top.
Bake for 20 minutes at 350 degrees.
Top with cheese and let sit until cheese melts from the radiated heat; approximately 5 minutes.