Easy Seven Layer Rice Casserole
Ang11002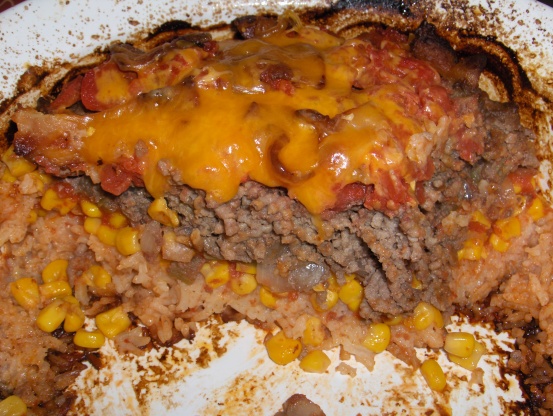 Since there is no precooking the ground beef for this casserole it comes together quite easy, just layer ingredients and bake in just one dish, I always season the ground beef with seasoned salt, black pepper, fresh garlic and a few tablespoons of Parmesan cheese but that is only optional, you can even sprinkle cheddar cheese in the middle also when layering :)

Top Review by KPD123
this was totally awesome and so easy to throw together! i made a few changes to fit what i had and to play into the mexican theme a little more. i used a sleeve of the yellow saffron rice, black beans instead of the corn, a can of pace enchilada sauce instead of the tomato sauce, i added a serrano pepper and some garlic to the onion pepper mixture, i added a layer of cheese in the middle, i seasoned the ground beef with a taco seasoning packet, i used a can of extra hot rotel for the tomatoes, and i partially cooked the bacon and cut it up before adding to casserole. everyone enjoyed this! it was full of flavor and pretty too! i'll be making this several times a month. served with mexican corn muffins. thanks for another winner, carol!!!!
Set oven to 450 degrees F.
Butter a 2 qt casserole dish.
Layer each ingredient in order given starting with the uncooked rice on the bottom of casserole dish, ending up with the bacon on top (save the cheese for the last 10 minutes of baking).
Cover, bake for 1 hour; uncover and continue cooking for 20-25 minutes longer.
Top with shredded cheddar cheese the last 5 minutes of baking.