Easy Sesame and Tamarind Pork Stir-Fry
Chris T.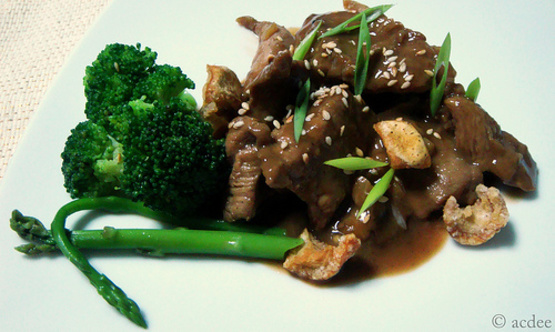 What's for dinner tonight? When I am confronted with such dilemma, I usually bounce back and ask..what would you like to have for dinner? Meat or vegetables? and the usual answer?? Meat with vegetables
Combine pork with garlic powder, sesame oil, oyster sauce, tamarind paste, water, light and dark soy sauce, sugar, salt and cornstarch. Marinate for 15 minutes (If you have 30minutes, better! An hour? Perfection!).
Heat oil in wok, over medium heat, saute garlic until lightly browned.
Add the pork and marinade. Stir-fry over high heat for 3-5 minutes, just until the meat lose it's pink color.
Top with toasted sesame seeds, pork cracklings (hmmm, orgasmic!) and chopped spring onions.
Serve hot with rice and steamed vegetables.