Diana 2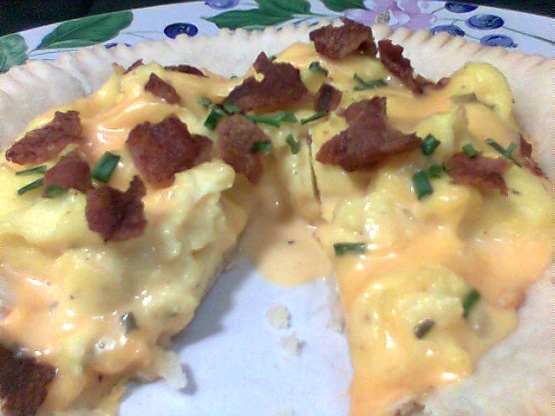 This is an easy meal for breakfast, brunch or even supper. We usually have this Christmas morning. It's a great time saver as you can prepare it up to 24 hours ahead. Quite often I've used cheddar in place of the processed cheese slices. I've also added ham, onions, and the like for a change of pace. My family however, prefers it as written below. UPDATE: When it is just DH and I, I make individual pies, as shown in the photos. The tart tins are 5-1/2" in dia.

My husband said best egg dish he's ever had! Egg-cellent! I didn't have chives so cooked some onion in the butter (used I can't believe it's not butter light) with crumbled cooked bacon for a few minutes before I added the eggs...I also only had 8 eggs - but it still worked great! Used shredded colby jack because that's what I had and added some more crumbled bacon to the top. Very versatile and easy! Will definitely make again Diana! Thanks!
Bake pie shell according to package directions. Cool. Arrange 3 cheese slices in bottom of pie crust, cutting to fit.
In a large bowl, beat together eggs and milk. Add chives, salt and pepper.
Heat butter in a large frypan. Add egg mixture to hot pan. Cook, while stirring, over low heat until mixture is almost set.
Pile into the prepared pie shell. Arrange remaining cheese slices on top and sprinkle with bacon and additional chives if desired.
Bake for 20 minutes at 375*.
This can be assembled the night before, then baked in the morning. Allow an extra 10 minutes cooking time if coming from the refrigerator.
Enjoy :).