Easy Sauteed Button Mushrooms With Lemon Cream Sauce
Parsley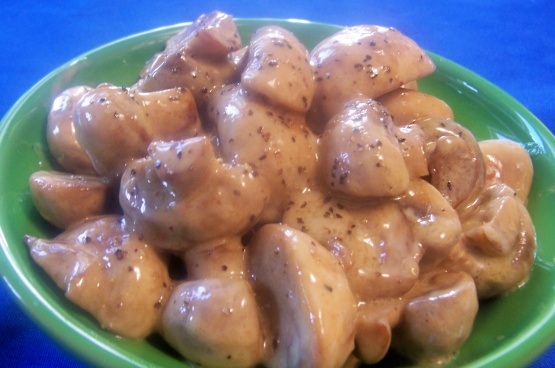 This is a simple recipe with gourmet taste. Cook down the mushrooms well until there is absolutely no liquid left in them. Just try to resist keeping your spoon away after the complete recipe is cooked, I can honestly say that I can't lol, they are so good Unless you have a huge frypan you most likely will have to do this recipe in two batches, or just prepare half a recipe (2 pounds mushrooms)

A light coating of lemony sauce to support the flavor of the mushrooms, not overpower it. This recipe has a very nice balance. The serving size (a pound of mushrooms) seems quite large - I think 4 oz might be more reasonable, which would also make the nutrition information more useful. The instructions would be easier to follow if they used the ingredient quantities given in the recipe.
To prepare this recipe in two batches: melt 1/4 cup butter in a large skillet over medium heat.
Add in half of the mushrooms, and saute until absolutely NO juices remain (about 15-18 minutes) and season with salt.
Add in 1/2 cup wine, 1 tablespoon lemon juice and just a tiny pinch of nutmeg; boil until slightly reduced stirring occasionally (about 5-6 minutes).
Add in 1 cup whipping cream and boil until sauce thickens and coats the mushrooms (about 10 minutes).
Season with black pepper and transfer to a bowl.
Repeat with remaining mushrooms (if using 4 pounds).