Easy Sausage Pancake Casserole
Chris S.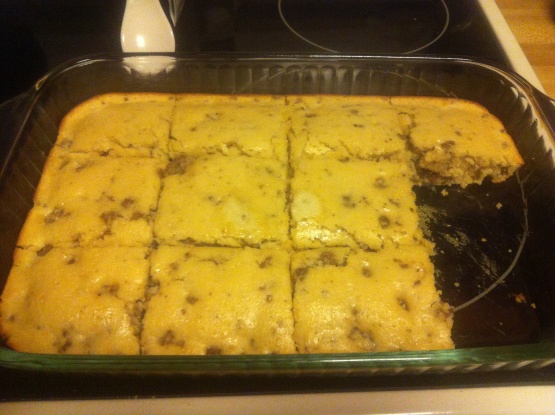 I LOVE this quick, easy recipe for breakfast or dinner. All package pancake mixes are a little different, I use a Buttermilk store brand that you just add water to. I use it for 18 or more pancakes (about two cups) and then add the water it indicates on the package. This recipe comes from my sister (she served it to hungry kids when they had sleepovers). If you like less sausage and want more of the "cake", just use 8 ounces of the sausage links. I've also added 1/2 cup of syrup to the batter for a little extra sweetness and flavor. This cake will not always become golden brown, just a little around the edges.

this will be a new favorite at my house! we used one cup of pancake mix (I had trader joe's instant coconut pancakes on hand that I mixed with half water/half milk for a hardier texture) and 12 oz of "country" sausage that I cooked up the night before. we kept the butter and syrup separate, and... WOW! what a dish! this is definitely going in the "houseguests breakfast casserole" book. thanks for the share!
2

cups dry buttermilk pancake mix (prepared as directed on package for approximately 18+ pancakes)

16

ounces brown n serve sausage links (thawed and cut into pieces)

1

tablespoon butter
syrup
Preheat oven to 450 degrees and spray a 9x13 glass dish very generously.
Cut thawed links into bite sized pieces (about 4 pieces per link). You can substitute other sausages, the Brown and Serve are just easy.
Prepare pancake mix as directed on your favorite brand. Just make sure you make it for about 18 pancakes or a little more. This is where I add the 1/2 cup of syrup option (see my "recipe description").
Mix prepared pancake batter and sausage pieces.
Pour into prepared pan and bake at 450 degrees for about 12 minutes or until toothpick inserted in center comes out clean.
Spread tablespoon of butter on top of baked casserole to melt down.
Cut into serving pieces and serve with syrup.