Easy Salsa Made With Canned Tomatoes
teresas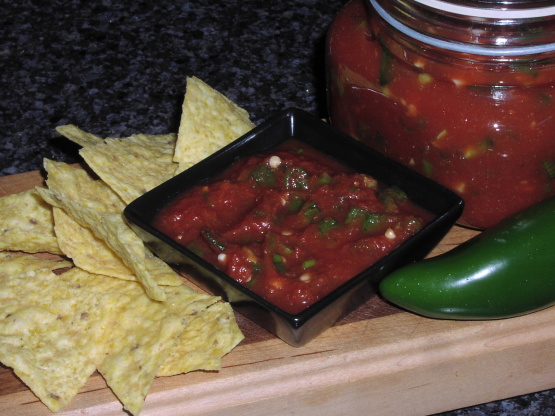 My brother got this recipe at his fire department. It is a great recipe for winter because you can use canned tomatoes instead of fresh. My wife will no longer eat store bought salsa since she tasted this!

Yep! This is easy...but the best part is that it's delicious...I have a quick and easy salsa too...this is right up there with mine...I did cut the recipe in half because there's just hubby and I...I don't know how long this will last...but by the taste of it...it won't last long...we like our salsa hot...so I left in the seeds...and increased the jalapeno...(I used 2)...chopping up the green onions I'm thinking...this is going to be way to much...but it's not...we just loved the cumin taste in this...I did think with my first bite that it was too salty...but by my third bite...it was perfect...the only thing I think I would add...just because I love it...is some cilantro...btw...please don't use tomato sauce, or diced tomato's...you really need to use the "CRUSHED" tomatoes so you get the right texture and flavor...thanks for posting this...it's a keeper =)
Finely chop jalepenos (remember to seed them if you want a mild salsa).
Chop green onions into approximately 1/8" slices.
Sprinkle onions and jalepenos with the vinegar, cumin and garlic salt, stir.
Add crushed tomatoes and stir everything together.
Serve with tortilla chips.