Rita1652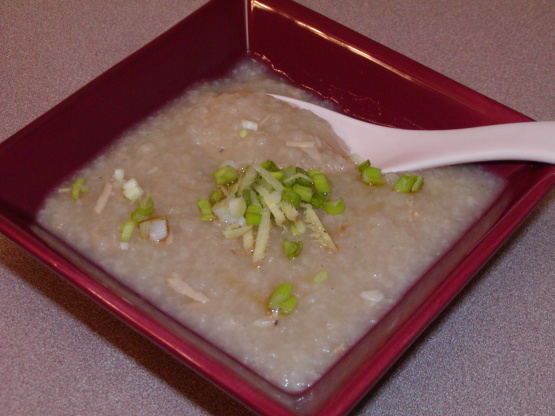 Very easy and delicious one-pot-meal. May substitute chicken with other meat e.g. pork/beef. Stirring is important, to achieve smooth congee. NOTE: Usually when cooking congee with electric rice cooker, i need to click it 'on' a few times after it switched off (automatically) because congee has to simmer for some time to be smooth.

Thank you for the recipe! This was really good and easy to follow. I used garlic powder instead of mincing garlic and will try using a garlic press to squeeze out the ginger juice next time instead of mincing ginger. I also used minced pork instead of the chicken. The sesame oil and white pepper at the end is a very good touch and definately enhances flavor.
Rice cooker: Dump all ingredients (except garnishes) into rice cooker, turn it on and stir occasionally, until congee is smooth and no longer grainy.
Stovetop: Combine all ingredients (except garnishes) in a medium saucepan, bring to boil over medium heat then turn down heat and let simmer until water has been absorbed.
Add more water/broth if necessary (for both methods)
Sprinkle with black/white pepper, a few drops of sesame oil and chopped scallions just before serving.