Easy Refrigerator Pineapple Graham Dessert Squares
sheri77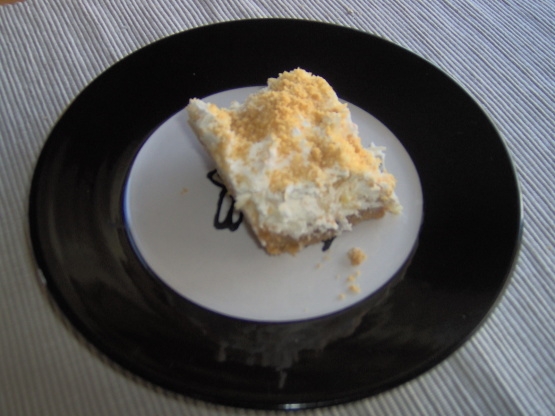 This dessert is easy to prepare and really good! You can use Cool Whip topping in place of the whipping cream if desired. I like to top each slice with a spoonful of crushed pineapple before serving.
Set oven to 350°F.
Grease an 8 x 8-inch square baking dish.
Combine graham wafer crumbs with 1/2 cup melted butter.
Pat into bottom of prepared baking dish.
Bake for 10 minutes; cool.
In a bowl, cream 1/2 cup softened butter with icing sugar for about 3 minutes.
Add in eggs, beat well until combined.
Transfer the mixture into cooled crust.
In a bowl, combine/fold the whipped cream with VERY well drained crushed pineapple.
Spread over the egg mixture.
Sprinkle with graham cracker crumbs.
Refrigerate for 2 hours before serving.