Easy Red Velvet Cupcakes or Cake
Ratalouille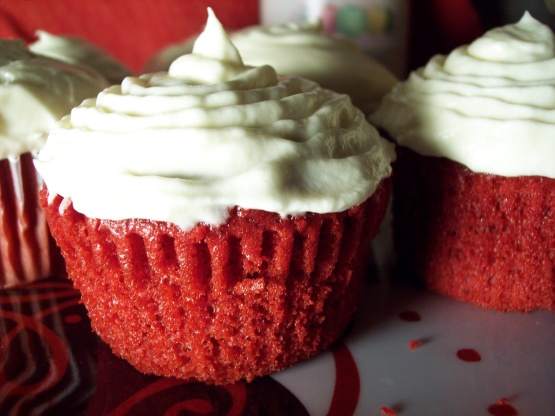 No one will ever guess this is made from a cake mix, cooking time is only estimated, depending on your cake mix baking directions

These were very easy and good red velvet cupcakes. The only concern I would have is the amount of red food coloring. I made a double batch and used 2 bottles of food coloring (1/2 the amount called for in the recipe) and they were extremely bright red. I can't imagine using more than this and would probably use even less next time. The texture and flavor was really good and enjoyed by all. Thanks for posting!
Set oven to 350 degrees.
Line 24 regular-size muffin tins with paper or foil liners.
In a large bowl beat the cake mix with baking cocoa, eggs, oil, buttermilk and food colouring for about 2 minutes, scraping down the sides of the bowl occasionally.
Spoon the batter evenly between the muffin tins about two-thirds full.
Bake according to package directions for cupcakes or cake.
Remove from the pans immediately and cool on wire racks.
Spread tops with cream cheese frosting.