pincus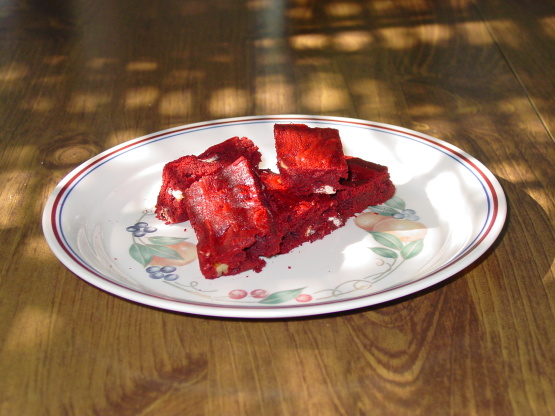 Posted in response to a request and found in an online search, I have not made this so times are estimates. EDITED TO ADD: Reviewers suggest baking the brownies for a shorter time. Changing baking time from "40-45 mins" to "30-35 mins"... however, I'd suggest checking at 25 mins and then again at 30 mins if you think they need to be baked longer.

For a denser brownie omit the egg and melt the chocolate chips prior to their incorporation. This makes a delish cakey brownie as written tho!
1

(18 ounce) box red velvet cake mix
3⁄4 cup melted butter

1

egg
1⁄2 cup water

1

cup semi-sweet chocolate chips

1

cup walnuts, chopped (optional)
Preheat oven to 325°F; grease 9x13" baking pan.
Combine egg, butter, water in a large bowl.
Add box mix, stir until the ingredients are combined and lumps are gone.
Stir in chips and 1 cup of nuts.
Pour mixture into prepared pan.
Bake for 30-35 minutes.
Let cool for 15 minutes and place the cake on wire cooling rack.