Easy Really Quick Parmesan-Garlic Chicken (Or Fish)
Jubes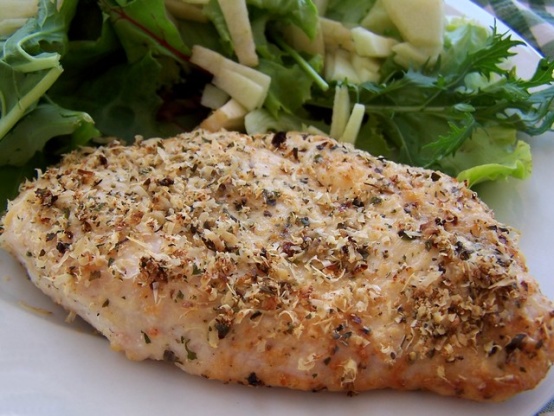 Three ingredients plus chicken or fish.

I made this last night. Used boneless skinless chicken thighs, and shaved parmesan (much better flavor than kraft grated in a can) that whirred in the food processor until grated. I used a whole envelope of the Good Seasons Italian dressing, and just eyeballed the garlic powder. So easy! So yummy! My husband and I both really loved it. The chicken was very moist and flavorful. I cook chicken frequently, and this is going into my "make often" file. A++++ recipe, will make again!
Preheat oven to 400°F degrees. Mix together all ingredients except chicken or fish, in a flat dish.
Moisten chicken (or fish) with water; coat with mixture. Place in a shallow baking dish.
Bake 20 minutes or until chicken is baked through. (Less time for fish).
At this time you may put the chicken (or fish) under the broiler to turn the crust to gold. Watch carefully so the chicken (or fish) does not burn, while under the broiler.